Highlighted in the 50 best places to play golf in the state of Wisconsin, The Meadows of Sixmile Creek Golf Course artistically blends bent-grass greens, tees, and fairways with over 40 additional acres of natural habitat home to Sand Hill Cranes, Red Fox, Yellow Winged Blackbirds, and a variety of Egrets, just to name a few.
In addition to the natural beauty and wildlife, superior drainage at The Meadows of Sixmile Creek Golf Course allows for dry, comfortable conditions on days where other nearby courses are just serving drinks. Your guests will appreciate that no two rounds of golf are ever the same at Sixmile Creek Golf Course.
Drainage – This ecological paradise built with advanced construction techniques blends the 9 ponds and nature habitat into the Sixmile Creek watershed. In addition to the natural beauty and wildlife, the course has many superior drainage options.
Tees – Playing Sixmile Creek Golf Course from the 'the tips' has always been a supreme golf challenge. The distance from our black tees is a deceptively challenging 6,955 yards. The golf course has a total of 5 sets of tees! At 6,448 the blue tees provide a great test for a low to mid handicap golfer. The 6,068 yard white tees are the perfect distance for the average golfer who wants to enjoy the course. The 5,678 yard gold tees are ideal for senior golfers and advanced women. The red tees, at 5,129 yards, are the most popular choice for women and juniors.
Eco-friendly – Our green's staff works hard to maintain excellent playing conditions while minimizing the chemicals applied to the golf course. We are Dane County's only organic golf course. We partner with Purple Cow Organics who's an industry leader in fostering healthy soil for healthy people.

Course Designed by: Ken Killian
Course Constructed by: The Bruce Company
Contact Us to learn more about hosting your golf outing or take a tour of our facility at The Meadows!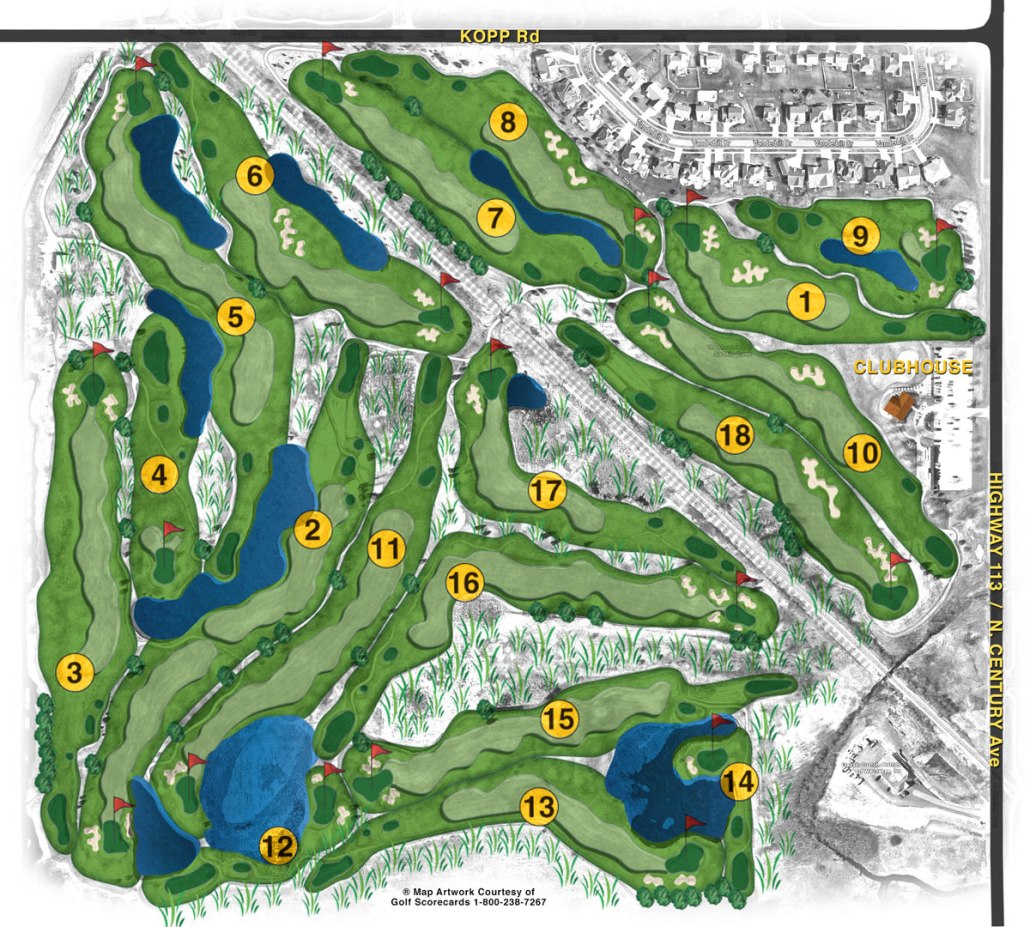 In 2012, The Meadows of Sixmile Creek reduced maintenance inputs to a single chemical application (conventional golf course management calls for as many as 20+ applications).  All other treatments to the golf course were made with environmentally responsible products including OMRI listed Purple Cow Organics compost, compost tea, naturally mined minerals, and other biological materials.
The benefits of our biological approach to course maintenance are numerous:
Golfers are not exposed to chemicals.  The Meadows of Sixmile Creek is a safe environment for golfers of all ages.  Sensitive wildlife, surface and ground water are protected.  Parents can send their children to the golf course with peace of mind.
Biological maintenance feeds the soil, which in turn produces turf that is full of nutrients and is truly healthy.  This helps the turf hold up better in difficult weather conditions, such as the severe drought that we experienced in 2012.  Despite very challenging conditions, our turf retained its moisture and remained healthy.
We envision a future where complete, sustainable, biological programs are the norm for schools, parks, sports turf of all types, and yes, even golf courses!
Travel Green Wisconsin Certification
THE MEADOWS OF SIXMILE CREEK JOINS RANKS OF TRAVEL GREEN WISCONSIN™
Management and staff embrace programs earning the golf course its green certification.
WAUNAKEE, Wis. (Jan. 30, 2013) – The Wisconsin Department of Tourism takes pride in welcoming The Meadows of Sixmile Creek as a certified member of the Travel Green Wisconsin program. Sixmile Creek has implemented a number of programs and practices to be more environmentally friendly that involve management, staff and course visitors. Not only is the building maintained in an environmentally-conscious way, but they have made a commitment to sustainable practices for the maintenance of their course. The Meadows of Sixmile Creek Golf Course joins over 350 other future-thinking tourism related businesses in an environmental initiative administered through the Wisconsin Department of Tourism.
"We're thrilled to welcome The Meadows of Sixmile Creek Golf Course to the ranks of those using greener practices and policies," said Tourism Secretary Stephanie Klett. "Sixmile Creek has truly gone the extra mile to make every part of their 'greens' greener! We hope other businesses will follow Sixmile Creek's positive example."
They have taken several steps to maintain their outdoor facilities in an environmentally-conscious fashion. Rather than using chemical fertilizers, organic compost is applied to the golf course. The management also takes pride in the Waunakee community and tries to give back to the people that support their business. Rounds of golf are often donated to local charities and events. 
"The Meadows of Sixmile Creek is Dane County's only organically maintained golf course," said Danny Rainbow, who is the General Manager and Director of Golf at Sixmile. "When we learned about the opportunity to pursue Travel Green Wisconsin certification, the choice was easy. Our two organizations share many of the same values, which makes this a great fit for us."
This year, the Department of Tourism adopted a flat fee of $95 for membership in the Travel Green Wisconsin certification. The change was based on industry feedback and to encourage a wider variety of tourism businesses and organizations to consider implementing sustainable practices in their operations. In addition, the benefits of being a member have increased. 
Travel Green Wisconsin's program is the first of its kind in the nation and serves as a stewardship model by promoting sound environmental practices in the tourism industry. Unique for its inclusiveness, all tourism-enterprises who share a commitment to protecting Wisconsin's environmental legacy are invited to participate. Applicants are subject to rigorous yet obtainable standards before earning TGW certification status.
The mission of the Wisconsin Department of Tourism is to market the State as the Midwest's premier travel destination by executing industry-leading marketing programs and establishing strategic partnerships. The Department plays a significant role in generating greater economic impact and jobs for Wisconsin. The portal for traveler information can be found at:www.travelwisconsin.com.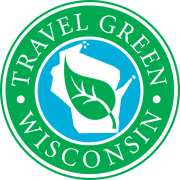 Copyright
The Meadows of Sixmile Creek 2019
Golf For A Cause

The Meadows of Sixmile Creek along with Metcalfe's grocery and Arnold Palmer Spiked is proud to bring you a 3 part series of outings that are focused on raising money for a non profit or charity. Click on the links below to register.
Contact
608-849-9000
800 N Century Ave
Waunakee, WI 53597